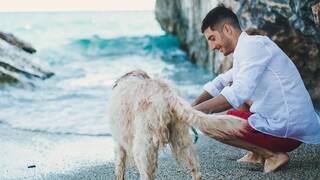 Whether you're seeking a coastal retreat with stunning sea views or a peaceful countryside escape surrounded by rolling hills, North Wales has it all. In this guide, we'll take you on a journey through the region's finest dog-friendly caravan parks, where you and your canine companion can enjoy a truly memorable holiday together.
The 10 best dog-friendly holiday parks in North Wales:
Conwy Holiday Park is a delightful dog-friendly destination nestled in the picturesque countryside of North Wales. Set overlooking the beautiful Conwy Estuary and just down the road from Conwy Castle, this park provides a perfect base for outdoor adventures.

The park offers ample space for dogs to stretch their legs, with spacious dog-walking areas and designated exercise zones. You'll be in easy reach of scenic walking trails and beaches, allowing you and your canine companion to embark on memorable adventures together. Snowdonia National Park is also just a stone's-throw away.

The park goes the extra mile to make your stay enjoyable and hassle-free with a range of convenient amenities. Whether you're parking your caravan on one of the modern pitches or exploring the well-maintained facilities, such as the on-site clubhouse or the fun-filled children's play area, every aspect of your holiday experience is carefully designed to ensure your utmost satisfaction.
Tyn-yr-Onnen Farm and Campsite is a charming family-run farm that offers a warm welcome to dogs, making it a fantastic choice for those seeking a peaceful and pet-friendly camping experience. Its spacious and well-maintained campsite provides ample room for both tents and caravans. With designated dog-friendly areas, you can rest assured that your furry friend will have plenty of space to roam and play.
Beyond the campsite, a dog's paradise awaits in the surrounding countryside. Explore a plethora of scenic walks and trails that start right from Tyn-yr-Onnen Farm's doorstep. Set off on a leisurely stroll through the gentle rolling hills, meander along picturesque footpaths that wind their way through quaint villages, or venture into nearby forests, all while soaking in the breathtaking natural beauty of North Wales.
Discover the coastal paradise of Trwyn yr Wylfa Camping Site, a haven for dog owners seeking a seaside getaway. Nestled near the picturesque village of Aberdaron, this campsite offers breathtaking panoramic views of the mesmerising Irish Sea and the rugged cliffs that line the coast.
The campsite provides spacious pitches, catering to both tents and caravans, ensuring a comfortable and enjoyable stay for all. Dogs are warmly welcomed throughout the site, and there are designated areas where your furry friend can roam and play to their heart's content. Take advantage of the incredible scenery by embarking on a leisurely walk along the nearby coastal path and further on down to the sandy beach.
When you're ready to venture into the village, Aberdaron awaits with its charm and friendly atmosphere. Explore the local shops, sample delicious treats at cozy cafes, and perhaps indulge in a pint or two at traditional pubs.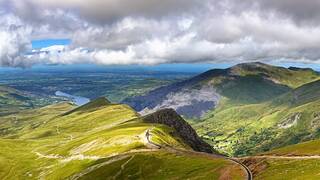 Experience the warm hospitality of Bryn Y Gwin Farm, a small, family-run campsite situated just a pleasant 15-minute stroll from the charming market town of Dolgellau. It's also close to the magnificent Cadair Idris Site of Special Scientific Interest (SSSI), so you have plenty of opportunities for adventure.

As a dog owner, you'll be pleased to know that Bryn Y Gwin Farm offers dedicated areas for your four-legged pals. Let them run and sniff to their heart's content as they discover the wonders of the sprawling 40 acres of woodland that surround the campsite.

Pitch your tent or park your caravan in one of the well-maintained grass or hardstanding pitches, some of which are equipped with electric hook-ups for your convenience.

When you're ready to venture off-site, it'll only take you 15 minutes on foot to the charming market town of Dolgellau. Browse through local shops, soak up the friendly atmosphere, and perhaps treat yourself to a delicious meal at one of the dog-friendly eateries in town.
Nestled in the stunning Clwydian Mountain ranges, Rhuallt Country Park is a dog-friendly destination that has been honoured with the prestigious Gold award by Visit Wales in 2022.

As soon as you arrive (whether it's Celia, Rob, Lewis, Owen, or one of their friendly sheep dogs who greets you), you and your canine companion will feel right at home.

With designated areas and spacious pitches for tourers, motorhomes, and camper vans, dogs have plenty of room to stretch their legs. If you're looking for a touch of luxury, you can opt for one of the stylish glamping pods situated at the highest point of the campsite, treating you to breathtaking views of the Clwydian mountain ranges.

Just a short stroll away from the campsite, you'll find a charming village with a variety of dog-friendly places to explore, dine, and relax. And for those longing for a seaside adventure, the golden beaches of Rhyl and Prestatyn are a quick ten-minute drive away, providing endless opportunities for and your pooch to play in the sand and surf.
Experience the beauty of Snowdonia National Park at Hendwr Caravan Park, a delightful campsite that welcomes families and their furry companions with open arms. Nestled near the captivating River Dee and surrounded by majestic mountains, this family-and dog-friendly site sets the stage for a perfect blend of relaxation and outdoor adventures.

Choose from spacious grass pitches equipped with a 16 amp electric hook-up, ensuring that your camping experience is comfortable and convenient.

For nature enthusiasts, the park offers easy access to a variety of breathtaking walking and cycling trails and as an added bonus, the campsite is situated on a working farm, allowing you and your family to get up close and personal with the friendly sheep, ewes, and cows that call the farm their home.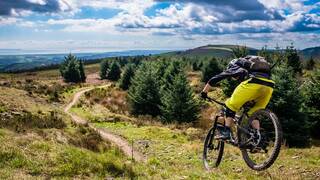 Discover the wonders of North Wales alongside your pooch as you enjoy direct access to miles of pristine Blue Flag beaches direct from Greenacres Holiday Park. With Snowdonia National Park providing a majestic backdrop, you can embark on exhilarating walks and explore scenic trails together.

It caters for all accommodation needs, offering 45 Euro pitches with hardstanding bases and grass awnings, providing a comfortable space for you and your furry friend to relax. If you're seeking a touch of luxury, choose from a selection of dog-friendly static holiday caravans. Unwind in cozy bedrooms, prepare delicious meals in fully equipped kitchens, and share quality time with your pet in the spacious living areas.

There's also plenty of entertainment for all ages on-site too – including a heated indoor pool and outdoor children's SplashZone (open late May until early Sept or August), adventure golf, sports courts and kart hire.
Escape to the breathtaking landscapes of Snowdonia National Park and set up camp at the picturesque Talymignedd Campsite. With its idyllic location amidst misty mountains and within easy reach of the Nantlle Ridge, it's a real paradise for nature enthusiasts and hikers alike. And you guessed it – it's dog-friendly too, so you can enjoy the local sights, walks and attractions together.

On site, you'll find designated dog-friendly areas where your furry friend can run, play, and socialise with other dogs. But the real highlight is its close proximity to stunning hiking trails that are perfect for exploring with your dog, such as the Rhyd Ddu path to Mount Snowdon.

And when you return to the campsite after a day of outdoor fun, you can look forward to cosy evenings around a campfire - which Talymignedd Campsite permits - allowing you to gather around the crackling flames, roast marshmallows, and share stories under the starry night sky.
Hendre Hall Campsite is nestled in the scenic region of North Wales, specifically in Gwynedd County. It enjoys a tranquil setting with beautiful sea views, providing a peaceful escape for visitors. The campsite is conveniently located near the Cambrian Coast railway line, making it easy to explore the lively towns of Pwllheli and Aberystwyth.

This campsite understands that dogs are part of the family, so there are designated dog-friendly areas for your pooch.

But that's not all – the campsite's prime location opens up a world of adventures for you and your furry companion. From the picturesque coastal areas to the breathtaking landscapes of Snowdonia National Park, there's no shortage of dog-friendly excursions to embark on. Take leisurely walks along the beach, explore scenic trails, or simply enjoy the beauty of Snowdonia's open spaces.
Keen to check out more about dog-friendly campsites in North Wales? Visit Campsites.co.uk to discover an extensive list.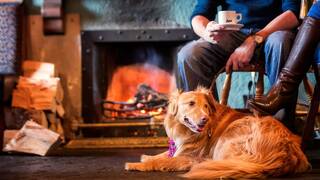 Where are the best dog-friendly pubs and restaurants in Conwy?
When it comes to dining out with your dog in Conwy, North Wales, here are some of the local eateries we'd recommended, where you and your furry friend can enjoy a meal together:
What are the best dog-friendly beaches in North Wales?
North Wales is known for its stunning coastline and beautiful beaches. Fortunately, there are several dog-friendly beaches in the region where you can enjoy some seaside fun with your furry friend.

Here are a few popular options: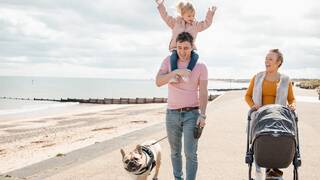 The best dog-friendly places to visit in North Wales
North Wales offers a variety of scenic and dog-friendly places to explore. Here are some of the best places to visit with your furry friend:
Snowdonia National Park: This expansive national park is a paradise for outdoor enthusiasts and their dogs. There are numerous walking trails, including the famous Mount Snowdon, where dogs are welcome. Enjoy the breathtaking landscapes, lakes, and mountains while hiking with your canine companion.


Conwy: This historic town is surrounded by medieval walls and offers picturesque views. Take a stroll along the quay or explore Conwy Castle, a UNESCO World Heritage site. Many shops, cafes, and pubs in Conwy are dog-friendly here.


Betws-y-Coed: Betws-y-Coed is a charming village in the heart of Snowdonia. There are lovely walks along the River Llugwy and scenic spots like Swallow Falls. Many outdoor shops and cafes in the village also warmly welcome dogs.


Llyn Peninsula: The Llyn Peninsula is a stunning coastal area with numerous dog-friendly beaches, including Porthdinllaen, Abersoch, and Porth Oer (Whistling Sands). Enjoy long walks along the coastline and soak in the beautiful views. You can also visit quaint villages like Aberdaron and Nefyn.


Anglesey: This island boasts lovely beaches, charming coastal villages, and nature reserves. Newborough Forest and Warren is a great place to explore with your dog, offering walking trails and a sandy beach. Visit Beaumaris with its historic castle or explore the picturesque coastal paths around Holyhead.

Remember to check local guidelines and any specific restrictions in each location, such as dogs being kept on leads or any seasonal restrictions.
FAQs about bringing your dog to Conwy Holiday Park
Some of the most common FAQs about bringing your dog to Conwy Holiday Park revolve around whether there are specific areas for dogs on-site, if there are any nearby attractions and walking trails, or if any extra charges to be aware of. Discover the top Q and As below:
Are there specific areas for dogs at Conwy Holiday Park?
Yes, Conwy Holiday Park provides designated dog walking areas where you can take your dog for a stroll. These areas are designed to ensure the safety and enjoyment of all guests.
Are there nearby dog-friendly attractions or walking trails?
Absolutely! Conwy Holiday Park is surrounded by beautiful landscapes and offers easy access to stunning walking trails where you can explore the natural beauty of North Wales with your dog. Additionally, there are nearby dog-friendly attractions, including beaches and parks to discover.
Is there an extra charge for bringing dogs to Conwy Holiday Park?
Conwy Holiday Park charges for bringing dogs. It's best to talk to us directly about any additional fees or requirements associated with bringing your furry friend.
Are there any rules regarding dogs at Conwy Holiday Park?
Yes, Conwy Holiday Park has specific rules in place for dogs to ensure the safety and enjoyment of all guests, including:
Dogs must be kept on a lead at all times: This is a common rule to ensure that dogs are under control and do not disturb other guests or wildlife within the park.

Dogs should not be left unattended: Leaving dogs unattended can be risky and may lead to unwanted behaviour or distress for the dog. It's important for owners to supervise their dogs at all times.

Clean up after your dog: Responsible pet ownership includes cleaning up after your dog. Conwy Holiday Park provides designated waste bins throughout the park where owners can dispose of dog waste properly.

Respect quiet hours: We have designated quiet hours to maintain a peaceful environment for all guests. During these hours, dogs should be kept quiet to avoid disturbing others.
Book your dog-friendly getaway to Conwy Holiday Park today!
Don't miss out on the chance to create unforgettable memories with your beloved dog at Conwy Holiday Park. Contact our booking office to secure your spot today.